Gas Piping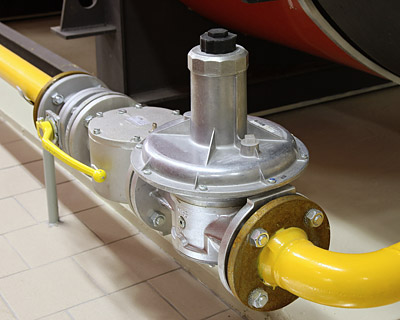 If you've noticed that the gas appliances in your kitchen aren't functioning the way they should or if you notice the typical" rotten egg" smell around your house, chances are there is a gas leak somewhere in the installation. Even a very small gas leak can prove to be dangerous.
The toxic chemicals that leak into the surroundings can cause severe carbon monoxide poisoning. If you live in Minneapolis and St Paul or anywhere west of the Twin Cities, and need an experienced plumber for gas piping installation, repair or maintenance, Right Mark is the company to contact.
Gas Leakage - A Major Hazard
When there is a gas leak in your home, it becomes a major inconvenience; but it also poses a safety hazard. It's something that can't be taken lightly as this is a distinct fire risk. The best thing to do is to call an experienced gas plumber without delay. We specialize in all types of gas plumbing and general plumbing services. We use the latest gas leak detection equipment and fix the problem within the shortest possible time.
Gas Piping Installation
Regardless of whether you need gas plumbing for your new home or want to upgrade your existing plumbing installation, we can handle the job in an expert manner. Our experienced, licensed and insured plumbing professionals work in a detailed and meticulous manner. Even before we start on the work, we will provide you a piping system plan; this will take into account all your requirements and usage for:
Ovens and stoves
Grills
Fireplaces and fire pits
Water heaters as well as boilers
Gas System Maintenance
We always recommend to all our customers that they should get regular checks done on the gas system. We provide annual gas maintenance packages as well as one-off services as required. Our gas plumber will run a thorough check on all the system and installations as well as the piping and appliances to ensure that everything is in order. Not only does this reduce the chances of a gas leak, but saves you a significant amount of money on expensive repairs, in the long term.
It's important to keep the number of reliable plumber handy. We are the experts that provide prompt and efficient services at very reasonable gas system installation cost. If you need an estimate for any work, we can provide that free of charge. Once you have approved the quote, we start the work without delay; use the latest equipment and the best materials in our work. This ensures the gas installation in your home will provide you trouble-free service for a number of years.
It's important to keep in mind that a gas leak is something you should never ignore. For any gas plumbing installation, repair, replacement or maintenance, simply call Right Mark at 952-758-6237. You could send us your queries via this Web form too. We assure you of prompt services and excellent solutions. Call us with your requirements.
We Provide Services to the Following Cities and Towns in MN: